August 19, 2016
Robert Large joins university's legal team
Submitted by Office of General Counsel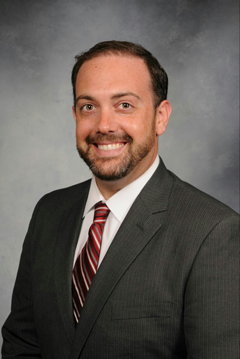 Robert Large, an attorney with experience in public service law and education law, has joined Kansas State University's legal team as assistant general counsel.
Large will provide legal advice to university administration, faculty, staff and student leaders on the diverse range of legal issues facing higher education, such as a constitutional law, employment matters, regulatory compliance, student rights, contracts, corporations, intellectual property and more.
"Robert is an experienced and highly qualified attorney who will be a valuable asset to the the university," said Cheryl Strecker, K-State's general counsel.
Large comes to K-State after serving as the chief legal counsel for the Kansas Department of Agriculture, where his practice carried an emphasis in water law and other agricultural regulatory matters, contracts, administrative procedure, legislation, employment law, agency governance and general client counseling. He also served as an attorney for the U.S. Army at Fort Riley and was an assistant general counsel at the Florida Department of Education.
Large earned his Juris Doctor from Florida State University College of Law in 2007 and his bachelor's degree in finance and political science from Florida State University in 2004.
"I am excited about this new opportunity and look forward to serving the K-State community in this role," Large said.