August 19, 2016
Kansas State University's Delta Upsilon chapter receives top honor
Submitted by Division of Communications and Marketing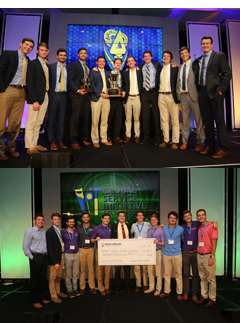 Kansas State University's chapter of Delta Upsilon was recognized with two awards at the annual Leadership Institute July 28-31 in Indianapolis, Indiana.
For the fourth time in five years, K-State's chapter received the 2016 Sweepstakes Trophy, the highest honor bestowed upon a Delta Upsilon undergraduate chapter. It also received the the highest fundraising chapter award for raising more than $11,000 for the fraternity's Global Service Initiative, more than any other chapter.
Each year, seven finalists and and one winner are selected for the award. The Sweepstakes Award is given to the best Delta Upsilon chapter out the 77 chapters in the U.S. and Canada.