August 22, 2016
Hale Monopoly introduces students to a wealth of knowledge
Submitted by Sarah McGreer Hoyt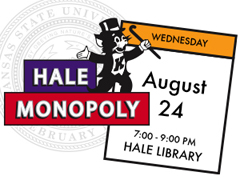 Would you like your students to get to know K-State Libraries? Encourage them to participate in Hale Monopoly from 7-9 p.m. Wednesday, Aug. 24.
This live-action version of the classic board game will help students understand how a university library aids in academic success.
As they move from station to station to complete various challenges, students will learn:
• How to receive assistance from a librarian.
• How to find and use primary sources in University Archives and Special Collections.
• About iTAC's services and equipment.
Students who conquer all four stations gain entrance to prizes and games in Hale Library's Great Room. As an added incentive, the first 150 students to complete the challenge receive a T-shirt.
For more information, contact Charissa Powell at powellc@k-state.edu.