July 27, 2016
K-State faculty participate in White House Summit on Global Development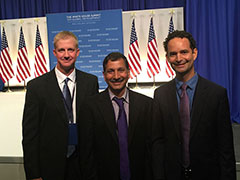 Three Kansas State University faculty members recently were invited by President Barack Obama to participate in the White House Summit on Global Development.
The trio — Jesse Poland, Vara Prasad and Jagger Harvey — attended the July 20 event because they lead programs at the university that provide solutions to world hunger and nutrition.
The summit highlighted the government's progress in global development initiatives, which include such programs as Feed the Future, Power Africa and Open Government Partnership.
Those programs have taken aim at reducing poverty, malnutrition and infant and maternal mortality, while encouraging entrepreneurship and economic growth; increasing the number of young women in school; and building more stable and inclusive societies. In 2015, Feed the Future alone helped 9 million small-scale farmers and provided nutritious food to millions of children.
Kansas State University is entrenched in these efforts through the Feed the Future program. University faculty currently direct four innovation labs funded at more than $100 million by the U.S. Agency for International Development.
Poland is the director of the Feed the Future Innovation Lab for Applied Wheat Genomics. Prasad is the director of the Feed the Future Innovation Lab for Collaborative Research on Sustainable Intensification. Harvey is director of the Feed the Future Innovation Lab for the Reduction of Post-Harvest Loss.
Poland said the summit was a great opportunity to connect with others working in the areas of international development.
"It was a great time to reflect on all that has been collectively accomplished, but also to remember that there remains substantial poverty and food insecurity around the world," he said.
Prasad noted that K-State's four innovation labs are working toward improving food and nutritional needs of smallholder farmers through research and capacity-building activities. He said that the university's labs are currently working in 11 countries.
Two of three innovation lab technologies shared with USAID officials at one demonstration came from programs at Kansas State University, including a cart that combines several sensor systems into one functional unit — called a phenocart — for measuring field plots in breeding field trials; and a low-cost grain moisture meter.
During the summit, Obama signed the Global Food Security Act of 2016, which authorizes a law to allocate more than $7 billion to initiatives that focus on agriculture, small-scale food producers and nutrition for women and children. It has bipartisan support and is recognized as a crucial investment in global stability and prosperity.
"The Global Food Security Act emphasizes the importance of leveraging resources and expertise from U.S. academic institutions, nongovernment organizations, foundations and the private sector," Prasad said. "These groups are working closely with the host countries to address their needs and achieve our goals and vision for global food security."
Prasad said some discussion also centered on a critical need to involve youth in agriculture.
"There is a youth bulge in most of the developing countries in Africa and Asia," he said, noting that youth make up 50-70 percent of the population in many countries. "Their energy should be focused on helping build communities, and developmental activities focused on agriculture, health and small business."
Harvey, who began work at Kansas State University recently after working on agricultural development programs in East Africa, said that great strides have been made recently in global development.
"K-State is poised to play an increasingly catalytic role in these global efforts, helping drive agricultural transformation at the scale that our collective future demands," he said. "Through these efforts, shared lessons and synergies will continue to benefit farmers and consumers both at home and abroad."
Obama's address to the summit is available online.