June 1, 2016
K-State faculty selected to chair the International Standards Committee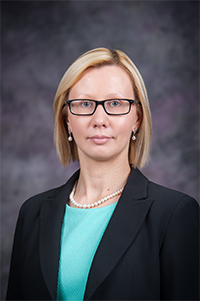 K-State's Kadri Koppel was elected chair of the U.S. International Standards Organization, or ISO, Committee on Sensory Analysis and Consumer Research at the American Society for Testing and Materials, or ASTM, international meeting April 10-15, in San Antonio, Texas.
Koppel is an assistant professor of sensory analysis and consumer behavior in the food, nutrition, dietetics and health department in the College of Human Ecology. She has been with the department for four years and teaches Sensory Analysis, Pet Food Sensory Analysis, Quantitative Consumer Research, Attitudinal Consumer Research and Non-Food Descriptive Analysis. Her current research is related to pet food, pomegranate juices, cosmetics, pecans and food safety issues. Koppel worked in the food industry prior to joining the university.
Koppel was elected by her peers to serve a five-year term, which will require her to lead the U.S. delegation at international meetings every 18 months. Her role will include maintaining U.S. interests in standards for the sensory and consumer research field. These standards affect the worldwide product trade.
"I consider standards as very important tools for professionals working in the industry," Koppel said. "Having worked in the food industry, I experienced firsthand how crucial it is to have additional information on testing procedures. I am excited to be able to contribute to the work the ASTM and ISO organizations are accomplishing."
Koppel is following in the footsteps of K-State professor Delores Chambers, who stepped down from the U.S. International Standards Organization committee after serving as chair for the last 10 years.