May 31, 2016
K-State veterinary director of pharmacy receives preceptor of the year award from KU's School of Pharmacy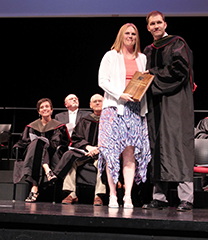 Landa Colvin-Marion, director of pharmacy in the Veterinary Health Center at K-State, was recently honored during the School of Pharmacy hooding and awards ceremony at the University of Kansas.
Colvin-Marion was presented with a 2016 Preceptor of the Year Award. She was one of four recipients to receive the honor, chosen by the fourth-year pharmacy students for her work in training them during their Advanced Pharmacy Practice Experience rotations. The Veterinary Health Center accepted 23 pharmacy students for the last academic year from two different schools of pharmacy, and is expecting 31 students for the 2016–2017 academic year under Colvin-Marion's supervision.
"Being chosen for this honor by the students I am training is a great honor, and it makes me feel that I am giving back to the profession and broadening students' knowledge of my niche in pharmacy."
According to the University of Kansas School of Pharmacy, there were 161 preceptors who received at least one vote for the preceptor of the award. Colvin-Marion earned her Doctor of Pharmacy, or PharmD., at Creighton University in 2011. She has been at the Veterinary Health Center at K-State since May 2011.