May 31, 2016
Engineering professor elected fellow in professional society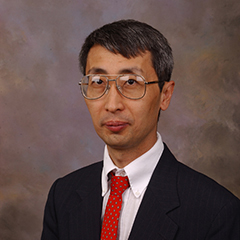 Zhijian Pei, professor of industrial and manufacturing systems engineering at Kansas State University, has been elected to the 2016 Society of Manufacturing Engineers College of Fellows.
Pei was one of nine professionals elected this year. Those reaching fellow status must have 20 years or more active practice in manufacturing, and have made outstanding contributions to the social, technological and educational advancement of the profession.
Pei currently serves as director of the manufacturing machines and equipment program for the National Science Foundation, where he interacts with principal investigators, facilitates merit review panels and recommends funding decisions. He will return to K-State in 2017.
In 2010, Pei also was named fellow for the American Society of Mechanical Engineers. Other honors include the Carl R. and Mary T. Ice Industrial Engineering Professorship in 2014, Dr. Ron and Rae Imam Outstanding Faculty Award for Research in 2013, Frankenhoff Outstanding Research Award in 2008 and National Science Foundation CAREER Award in 2004.
Pei holds a bachelor's degree in mechanical engineering from Zhengzhou Institute of Technology, a master's degree in mechanical engineering from Beijing Institute of Technology and a doctorate in mechanical engineering from University of Illinois, Urbana. He joined the industrial and manufacturing systems engineering department in 2000.