December 7, 2015
K-State United Way final prize drawn
Submitted by K-State United Way Campaign Committee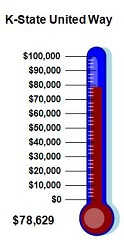 The annual parking pass prize winner is Laurence Clement in landscape architecture and regional & community planning.
The campaign ended officially on Monday, but you may still give. Your gift of a few dollars a paycheck or few dollars in a one-time donation is sorely needed to help support the 16 programs at work in our six-county region. The health, education and income programs supported are vital to their recipients. Support your community through this united effort.
Each year a committee has to do the heartbreaking work of allocating how much less to give each program since the amount requested is not the amount Konza United Way can give them.
Visit K-State United Way to give or give through Employee Self Service/HRIS
The K-State United Way campaign has 382 K-State employees who have pledged $78,629.10. We need your help to reach our goal of $100,000.
Live United and donate today.