November 3, 2015
New chillers arrive at the Chilled Water Plant
Submitted by Communications and Marketing
Kansas State University's new Chilled Water Plant, north of Claflin Road, received two chillers on Friday, Oct. 30. The chillers weigh 40 tons and had to be lifted by a crane. Each chiller also has 2,900 tons of chilling capacity — compared to an average residential home chiller with about 4 tons of chilling capacity.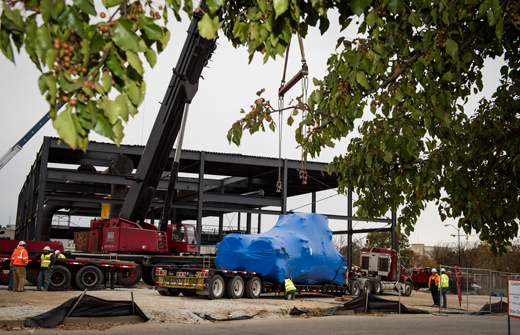 The Chilled Water Plant project started in January and will provide chilled water cooling to several buildings not currently connected to the system, with the potential to expand to future buildings such as the new College of Business Administration building and the Engineering Complex expansion.
Workers have been installing new chilled water pipes around the Manhattan campus to create a loop system that will allow for repair and maintenance without affecting surrounding facilities. The project is one of many facilities and infrastructure updates on the Manhattan campus that will help the university compete with benchmark institutions as part of K-State 2025.
The chiller building and campuswide underground distribution pipe project is expected to be complete in fall 2016.