October 7, 2015
Interest in video games helps Kansas State University student from Prairie Village shape future career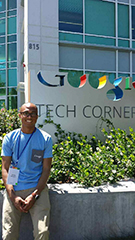 Ever since he was a young child, Geordy Williams has loved to play video games. But as he has grown older, it has become more than child's play.
Williams, a junior in computer systems engineering at Kansas State University, is enthralled with the design and creation of video games. He follows top video game writers and developers, and this passion for computer science, creativity and problem-solving are shaping his future.
Because of his interest in research, Williams was selected to participate in Kansas State University's Developing Scholars Program, an undergraduate research program for serious-minded students from underrepresented backgrounds. Williams, who is from Prairie Village, has been conducting undergraduate research since his freshman year. Most recently, he has been working on the project "Global Sensitivity Analysis of Dam Erosion Models," developing a graphical user interface for dam analysis. His research mentor is Mitchell Neilsen, professor of computing and information sciences.
"He is self-motivated, eager to learn and willing to attack challenging problems," Neilsen said of Williams. "His contributions have already resulted in a conference publication."
Williams' current research project will have real-world impact, his mentor said.
"The Dakota user interface and plug-in for Eclipse, which Geordy is developing, will be widely used by scientists and engineers for the design and analysis of computer experiments, with a specific focus on the design and analysis of water control structures," Neilsen said.
Williams' research experience, hard work and initiative have helped him obtain valuable and life-changing experiences. This past summer, he participated in Google's CodeU mentorship program, an exclusive development program for high-potential college freshmen and sophomores to strengthen their skills and prepare them to be successful candidates for future technical opportunities.
The program provided technical development exercises, mock interview practice and technical coaching. Through the program, Williams took the Udacity's Developing Android Apps course, working on a team to develop a video game app that provides information on recently released games. He worked under the guidance of a Google engineer and a team from the University of California, Berkeley and Brown University.
The mentorship concluded with Williams traveling to Google's headquarters in Mountain View, California, for the CodeU Summit, where his team presented the group's app and got a look into the life of a Google employee. As a participant of the program, Williams earned a guaranteed interview for a Google internship for summer 2016.
In addition to immersing himself in the CodeU program, Williams also spent his summer as a software engineering intern with Lexmark Enterprise Software, formerly known as Perceptive Software, in Lenexa, where he developed software and created new solutions for consistency among the company's user interfaces.
Williams describes himself as "a software engineering student who values creativity and is passionate about solving meaningful problems."
Active at Kansas State University, Williams was recently elected as the first president of the Edgerley-Franklin Urban Leadership student organization, which is for the university's Edgerley-Franklin Urban Leadership Scholarship recipients, and he serves as the webmaster and historian for the university's chapter of the National Society of Black Engineers. He participated in the Soaring with Eagles leadership program through the university's Staley School of Leadership Studies and was an undergraduate teaching assistant for the computing and information sciences department during the last year.
His honors include the Outstanding Leadership Team Member Award from the National Society of Black Engineers and second place in the Best Use of Theme category at the university's first Game Jam.
Anita Cortez, director of the Office of Undergraduate Research & Creative Inquiry, said that Williams is the epitome of what she looks for in a young researcher.
"He is intellectually curious. He is engaged," Cortez said. "He is not intimidated by the fact that he doesn't already know the answer; rather, he is motivated by the challenge. Geordy takes the long view. He is willing to put in the work now in order to prepare himself for the future."
But that does not make Williams one-dimensional, Cortez said.
"Like intellectuals everywhere, he is multifaceted and eager to explore the issues that his generation must face in order to improve the world they live in," she said. "As an Edgerley-Franklin Urban Scholar, Geordy also cares about the people in his community and steps forward to make a difference in every way he can."
Although he has already accomplished a great deal in just two years of his undergraduate career, Williams keeps his eyes fixed on the future. This fall, in addition to his classes and research engagement, he will attend the PlayStation Experience conference for the second time to continue building and expanding professional relationships with those video game writers and developers he began following in high school. He also plans to pursue an internship for summer 2016 with Google or PlayStation.