October 7, 2015
Percussionist and technologist to perform free concert Oct. 22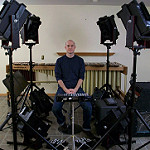 Nathaniel Bartlett, a percussion composer, performer and technologist, will perform a free concert at 7:30 p.m. Thursday, Oct. 22, in Kirmser Hall in McCain Auditorium. It is free and open to the public.
Before creating his masterpiece called the Sound-Space Audio Lab, Bartlett studied at the Eastman School of Music under John Beck. Bartlett also studied marimba performance at the Royal Academy of Music with Leigh Howard Stevens and obtained his doctoral degree in music composition from the University of Wisconsin, Madison. His mobile electro-acoustic diffusion array has given him the ability to create auditory spectacles with an unmatched quality of sound. His use of a live marimba mixed with electronic sampling through multichannel software makes him an innovator of modern percussion.
Before his concert, Bartlett also will present a clinic to the K-State Percussion Studio at 11:30 a.m.