October 7, 2015
American ethnic studies professor gives invited panel presentation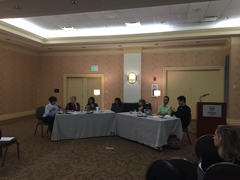 Shireen Roshanravan, associate professor of American ethnic studies, gave an invited presentation on Friday, Oct. 2, as part of a keynote panel honoring the work of Latina philosopher María Lugones at the Association for Feminist Ethical And Social Theory annual meeting in Clearwater, Florida.
The theme of this year's gathering, "Contested Terrains: Women of Color, Feminisms, and Geopolitics," centered on the voices of women of color theorists and philosophers whose work charts feminist resistance and liberatory movement against the ongoing legacies of colonial and racial violence.
Joined by prominent lesbian feminist philosopher Sarah Hoagland and queer Chicano and Latina/o scholars Michael Hames-García, Pedro Di Pietro and Mariana Ortega as fellow panelists, Roshanravan's presentation, "Integrity, Faithful Witnessing and the Politics of Women of Color Coalition Building," elaborated the central problematic of divide-and-conquer barriers to deep coalition addressed throughout Lugones' oeuvre.
Roshanravan is currently completing a co-edited anthology, "Speaking Face-to-Face/Hablando Cara a Cara: The Visionary Philosophy of María Lugones," with Di Pietro and Jennifer McWeeny. The anthology gives uptake to Lugones' interdisciplinary engagement of concepts and grassroots practices at the forefront of radical social justice politics and progressive social theory in the 21st century.