August 28, 2015
Student research into 'Things That Speak' on exhibit in Justin Hall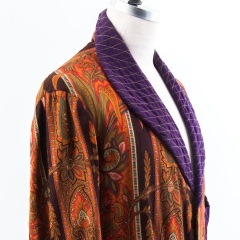 A mourning cummerbund, a quilt and a Navajo dress. They are part of an exhibit called "Things That Speak," a creative collaboration between an assistant professor of English and Marla Day, senior curator of the Historic Costume and Textile Museum, now on display in Justin Hall.
At first glance, the everyday objects might not seem like material for intellectual inquiry but they can speak of economic, historic and social structures. They tell about people, their values and their relationships, Day said.
The student exhibit, first displayed in the Kemper Art Gallery at the K-State Student Union in January, explores the cultural significance of everyday items used by ordinary people. It grew from a project by students in American Everyday, a capstone English course taught by Steffi Dippold, assistant professor of English.
When Dippold looked for ways to incorporate everyday objects into an undergraduate research experience she contacted the museum. She and Day went through the museum's holdings, thus beginning a collaboration that lead to an installed exhibit that also became a virtual exhibit.
Students were required to select an everyday object found in an archive and then trace its local and cultural life, as each was once the subject of fascination, association and meaning.
"Working with students whose academic background was outside the apparel program was enriching," Day said. "They asked lots of questions about processes and techniques of dying, weaving and construction."
Dippold put together a unified story from their individual research details. Students wrote the label copy for their objects and their papers went into K-State's digital archive, available to a worldwide audience. Access the digital archive.
Items on display from the Historic Costume and Textile Museum include a mourning cummerbund, a paisley shawl, a Navajo dress, a plum colored Quaker dress, a volume from an early women's journal called the Lady's Monthly Museum, published between 1798 and 1832, a banyan — a male housecoat, — an 1810 muslin empire dress, Whig's defeat quilt and reading glasses.
The "Things That Speak" exhibit is displayed in Hoffman Lounge and other display cases throughout the building.
Items for the exhibit were selected from the Historic Costume and Textile Museum, which is in the Department of Apparel, Textiles, and Interior Design in the College or Human Ecology, the Riley County Historical Society, the Kansas State Historical Society in Topeka and the National Archives, Kansas City, Missouri.