May 5, 2015
College of Business Administration celebrates Executive Mentor Program
Submitted by Brent Fritzemeier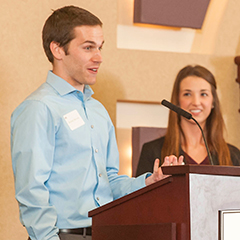 The Kansas State University College of Business Administration recently hosted its fourth annual Executive Mentor Appreciation Luncheon, which brought more than 250 students, executive mentors, faculty, staff and administrators together for recognition at the K-State Alumni Center.
"This event is a celebration of the successes students and mentors have found in their work together," said Emily Brueseke, director of the college's Executive Mentor Program. "It is our small way of saying 'thank you' to all of our executive mentors for their time, effort and commitment."
The program pairs undergraduate and graduate students in the College of Business Administration with professionals from a wide range of industries for mentoring purposes. Executive mentors provide one-on-one career advice, assist the student in soft skill development, and provide opportunities for networking with other professionals. Currently, 560 mentors are participating in the program.
As part of the luncheon, which was sponsored by Payless Shoesource, awards were given for the Executive Mentor and Executive Mentee of the Year.
The Executive Mentor of the Year award recognizes a mentor who demonstrates excellence in supporting and cultivating his or her student's professional goals and skills. This year's winner is Dave Chelesnik, president of Executive Planning Services, Del Mar, California. Warner is mentor to Michael Records, senior in finance, Wichita.
"I am certain that no one has taught me more about business, as well as life in general, than my mentor Dave," Records said. "I look forward to many more years of learning from him."
The Mentee of the Year award recognizes the student who models the expectations of the Executive Mentor Program — initiative, good communication and the drive to develop oneself professionally. This year's winner is Samuel Marshall, senior in management, Dalby, Queensland, Australia.
"Sam demonstrates the level of commitment to personal and professional growth that, in my four decades of professional life, is rare," said Dave Warner, Marshall's executive mentor. "The Executive Mentor Program has been the ideal vehicle for him to embrace the values embodied in the mentoring experience."
In addition to the Executive Mentor Program, students who participated throughout the year in the college's Professional Advantage Program, which is a co-curricular program designed to teach students the skills necessary to be successful professionally, were also recognized.
To complete the program this academic year, students were required to earn Professional Advantage points through their participation in professional development seminars of their choosing. Through the program students learn professional career skills including communication etiquette, interviewing, and are invited to private networking events with companies.
With generous sponsorship from GTM Sportswear, and its CEO and K-State alumnus Dave Dreiling, the program was able to provide all students who fulfilled the academic year requirement with awards in recognition for their accomplishment. Freshmen were awarded a notebook, with sophomores receiving a padfolio, juniors a business card holder and seniors taking home a garment bag. The students will find the awards helpful as they attend future Professional Advantage events, network, go on job interviews, and visit companies.