May 5, 2015
K-State Olathe Innovation Campus chosen for national Petfood Innovation Workshop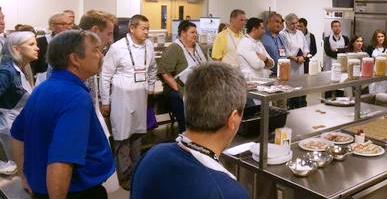 The Petfood Forum chose K-State Olathe as home to its new Petfood Innovation Workshop for 2015 — and possibly for the next three years. The workshop was sold out with more than 200 participants from across the country.
The workshop proceeded the April 28-29 forum in Kansas City on April 27. Special features at the Olathe workshop included hands-on pet treat product development with six different stations throughout the novel event.
"We were delighted that the workshop was sold out," said K-State Olathe CEO and Vice Provost Prema Arasu. "It was a great response for the Petfood Forum's inaugural innovation workshop."
At the workshop, students learned about upcoming trends and new product ideas, while the hands-on exercises included making new types of treats in the industry-grade facilities at the K-State Olathe Kitchen.
Sales of pet treats are growing 5 percent to 8 percent per year globally, with double-digit increases in some regions as pet owners around the world seek to pamper their pets yet still feed them wholesome, healthy snacks, according to Watt Global Media, the forum sponsor.
Greg Aldrich, research associate professor in grain science and industry and president of Pet Food Ingredients & Technology, led industry experts and suppliers through the creation of new baked and molded treats. "The energy and creativity of the group as they experimented on the next generation of pet treats, was really exciting."
"It was a complete immersion in the world of pet treats," said Bryan Severns, food programs and services manager at K-State Olathe. "We have a beautiful facility and everyone enjoyed using the space to learn, have fun and network.
The Petfood Forum provides the latest research and information on growth of the global pet food market, and pet food nutrition, safety, processing, packaging and much more-all from leading industry experts. Pet food manufacturers located within the Kansas City Animal Health Corridor represent 61 percent of the total pet food sold in the U.S. and 49 percent of global pet food sales, according to the K.C. Animal Health Corridor's 2014 Asset Survey.