April 15, 2015
Celebrate National Purple Up! day, recognize a military kid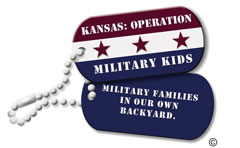 The nation's military-connected children are recognized and celebrated throughout April, which is the Month of the Military Child. Kansas has more than 33,000 children who live in military-connected families from all branches and components. Kansas: Operation Military Kids, or OMK, is an outreach of the university's Institute for the Health and Security of Military Families and encourages everyone to wear purple on Wednesday, April 15, for national Purple Up! day.
Purple Up! is a day when purple, which is the resulting color when all service branch colors are combined, is worn across the nation to remind us of the sacrifices made and resilience built by being a military kid.
Read more information about Purple Up! day is available at the institute's website.