April 15, 2015
Greene Inducted into the Mid-America Association of Educational Opportunity Program Personnel MO-KAN-NE Hall of Fame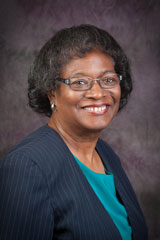 Kathleen Greene, director of Educational Supportive Services and the McNair Scholars Program, was inducted into the Mid-America Association of Educational Opportunity Program Personnel MO-KAN-NE Hall of Fame at the association's annual conference April 2 in Kansas City, Missouri.
MO-KAN-NE is the three-state chapter of the Mid-America Association of Educational Opportunity Program Personnel and one of 10 regional associations in the U.S. that form the Council of Opportunity in Education. The chapter recognizes and rewards members who have shown outstanding commitment, energy and excellence toward achieving the mission and goals of the organization by induction into the chapter's hall of fame.
Greene has been an active member of the chapter for more than 20 years and served in various capacities. She has provided strong leadership as the chapter's president; served as a member of the board of directors; chaired a number of committees; mentored a number of members to take leadership roles in the chapter; and served for several years as a team leader for the Kansas TRIO Programs legislative meetings in Washington, D.C.
The chapter seeks to create a community of like-minded advocates among educators and other interested persons in the three-state area. Its purpose is to increase accessibility to and success in postsecondary education among students who are less likely to enter and succeed in college due to socioeconomic or ethnic background; physical or learning disability; and/or limited cultural or educational experience.