April 8, 2015
Dean Goetsch chairs national conference; several K-State librarians present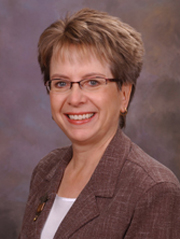 K-State Libraries were well-represented at the Association of College & Research Libraries Conference, March 25–28, in Portland, Oregon. Lori Goetsch, dean of K-State Libraries, served as the conference chair for the event, which set a record of nearly 3,400 attendees and celebrated the association's 75th anniversary year.
Goetsch led the central coordinating committee. Additional subcommittees comprising more than 200 volunteers organized nearly 500 programs, including contributed and invited papers, panels, poster sessions and other conference events. Among the volunteers were K-State librarians Adriana Gonzalez, co-chair of the scholarships committee and member of the coordinating committee; Casey Hoeve, member of the TechConnect presentations committee; and Livia Olsen, member of the scholarships committee.
"It was an exhilarating experience, both professionally and personally," Goetsch said. "ACRL, the academic division of the American Library Association, has more than 12,000 members and serves as the premier organization for university libraries, so it was very gratifying to see the high degree and quality of participation by our faculty."
Poster presentations included:
Jason Coleman:

Coleman, J., Mallon, M., & Lo, L. "Innovative reference services in college and university libraries."

Meagan Duever: "

So ... Tell me about your Data: An assessment of data sharing, storage, and re-use practices at a land grant university."

Kate Otto, K-State Salina: "

Tutoring as a library service: Empowering student employees through collaboration."

Joelle Pitts and Ellen Urton:

Pitts, J., Urton, E., Ward, B., & Ireton, D. "Sustained engagement: read, play, win!"

Joelle Pitts and Sara K. Kearns:

Kearns, S., Pitts, J., & Collins, H. "It takes a village: collaborating to teach new literacies online."
Joelle Pitts also participated on a panel presentation: Witek, D., Theiss, D., & Pitts, J. "Shifting our focus, evolving our practice: a collaborative conversation about the ACRL framework for information literacy for higher education."
Finally, Ellen Urton, Meagan Duever, Casey Hoeve and David Vail presented a contributed paper: Urton, E., Duever, M., Hoeve, C., Oleen, J., Olsen, L., Vail, D. "Leveraging library ecology: Growing beyond boundaries to cultivate a sustainable knowledge community through team-based librarianship."