April 8, 2015
K-State Inline Hockey Club begins round-robin play at national tournament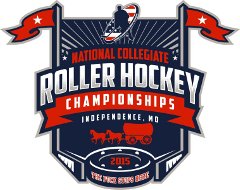 The National Collegiate Roller Hockey Association National Invitational Tournament opens today and runs through April 12 in Independence, Missouri. The Kansas State University Inline Hockey Club is hosting the tournament.
Both rinks at the Independence Events Center will feature Kansas State University in a prominent position on the dasher boards, posters and digital signage throughout the arena during the five days of competition. Fifty-nine college teams will vie for the national championship in four divisions.
The tournament consists of five pools of four teams each. These pools will play each other for seeding into the single elimination tournament. Round-robin play will take place Wednesday, April 8, and Thursday, April 9.
Kansas State University's pool consists of University of Arizona, University of Massachusetts and University of Tennessee. K-State's round-robin schedule, with all games at the Independence Event Center in Independence, Missouri:
6:30 p.m. April 8 — University of Tennessee vs. Kansas State University
5:30 p.m. April 9 — University of Massachusetts vs. Kansas State University
10:45 p.m. April 9 — University of Arizona vs. Kansas State University
Single elimination play will begin Friday, April 10, and a national champion will be crowned on Sunday, April 12. Our game times and opponents will be decided after the round-robin portion of the schedule completes Thursday night.
The teams competing in our division are Akron, Arizona, Arkansas, Boston, Chico State, Cortland, Denver, East Carolina, Farmingdale, Illinois State, Kansas State University, Massachusetts, Saint Joseph's, Saint Louis, Stony Brook, Tennessee, UC Irvine, UC San Diego, UC Santa Cruz, and Western Michigan.
We look forward to doing our best to represent Kansas State University and we thank you for your support all year. See the association website for a complete tournament information and live updates of the games.
Go Rollercats!