January 21, 2015
President Schulz named leader of NCAA board of governors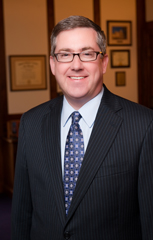 Kansas State University President Kirk Schulz is the new chair of the NCAA board of governors, which is the organization's highest-ranking committee.
The board established Schulz as its newest leader Jan. 16 during the 2015 NCAA Convention. Schulz will serve as chair until January 2017 and will help to oversee issues across the association.
"I am honored with the appointment to chair the board of governors, and I look forward to bringing together athletics and academics in this leadership role," Schulz said. "Serving as chair is an opportunity to strengthen the interconnectivity between intercollegiate athletics and the campus community, which is key as K-State becomes a Top 50 public research university by 2025."
The board of governors includes 20 presidents and chancellors from all three divisions. Schulz replaces Lou Anna Simon, the president of Michigan State University, who has chaired the committee since August 2012.
"President Schulz's appointment as the new chairman of the NCAA Board of Governor's is an incredible testament to the national appreciation of his leadership," Athletics Director John Currie said. "We are entering a new era of intercollegiate athletics, and President Schulz will continue to do a terrific job in representing Kansas State University and the Big 12 Conference in this role, all while working to propel K-State to among the Top 50 public research institutions by 2025, provide NCAA student-athletes a world-class experience and strengthen the relationship and connection between academics and athletics."
Since 2012, Schulz has represented the Big 12 conference as a member of the Division I board of directors and has served on the NCAA executive committee, which became the board of governors in October.
Schulz also served on the subcommittee that redesigned the Division I governance model, which took effect at last week's NCAA convention.
"The Big 12 is honored to have President Schulz serve as chairman of the NCAA Board of Governors," said Big 12 Commissioner Bob Bowlsby. "His understanding of the issues facing college athletics within the context of higher education are exemplary and uniquely position him for this role."