January 21, 2015
K-State Online: SpeedGrader app now available on iPhone, iPad, Android devices
Submitted by information Technology Services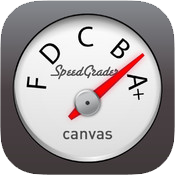 Instructors using K-State Online powered by Canvas can grade assignments and provide feedback easily and on the go with the SpeedGrader app.
Apple users can download the iOS app for your iPhone and iPad, and view the SpeedGrader iOS Guide for more information on how to use the SpeedGrader app.
Android users can download SpeedGrader in the Play Store. To learn more about the new Android release, view the Android Release Notes.
With the SpeedGrader app, instructors can:
Sort submissions by student and hide student names for anonymous grading.

View online submissions including PowerPoint, Word docs and PDFs.

Evaluate assignments and provide feedback quickly for each student, including resubmitted assignments.

Grade using different methods, including a simple point scale or a complex rubric.
SpeedGrader also is available in the desktop version of K-State Online powered by Canvas. To learn how to use SpeedGrader, view the SpeedGrader Guide.