December 18, 2014
Kansas Board of Regents Dec. 17 meeting university updates
Submitted by Communications and Marketing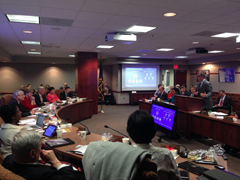 The monthly Kansas Board of Regents meeting on Dec. 17 included several items related to Kansas State University.
President's 2025 report
President Schulz gave his annual K-State 2025 progress report. The university has made substantial strides toward 2025 goals, including a record 83 percent freshman-to-sophomore retention rate, increased diversity, and investment in faculty, staff and new facilities. View the president's powerpoint presentation and see 2025 snapshots of success.
Redesign of the athletic practice fields
The board approved K-State Athletics' request to redesign two existing grass football practice fields into three fields to be used by both the football program and new women's soccer program. The new design will include a field with artificial turf and two fields with a natural grass surface. The total project cost is estimated at $3.4 million funded from private gifts and athletic funds.
Housing and food service rates
The board approved the housing and food service rate increases for all six universities. Kansas State University's housing and food service rate will increase 4 percent for the 2015-2016 academic year. The rate increase will take effect on July 1, 2015. Read more about the rate increases.
Fiscal year 2016 rehabilitation and repair appropriation
The board approved the university's rehabilitation and repair projects totaling more than $10.4 million. A complete list of projects is in the meeting's agenda.
Memorandum of Agreement with the Fraternal Order of Police
The board approved a new Memorandum of Agreement between Kansas State University and the Fraternal Order of Police Riley County Lodge No. 17 representing the campus police officers. Read a summary of the changes.
For live updates on all Kansas Board of Regents meetings follow @ksregents on Twitter. Agendas and complete meeting minutes are available online.