December 18, 2014
Study abroad opportunity gives students in the College of Business Administration a global outlook on business
Submitted by Brent Fritzemeier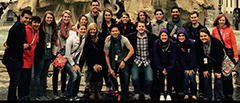 A faculty-led study abroad program over the Thanksgiving break saw 18 students in the Kansas State University College of Business Administration traveling to Barcelona and Rome to gain a better understanding of the international business world.
According to Swinder Janda, professor of marketing and the Robert M. Edgerley chair in global business, study abroad opportunities give students a leg up on their peers in the current global business climate. They are a great way for students to get a sense for not only how international businesses work, but also how cultural and other differences between countries and the United States affect business decisions and opportunities.
"I think study abroad is a great complement to a student's education beyond the appreciation of international business perspectives," Janda said. "It provides a lesson in diversity, and also makes students more independent and confident, via navigating a foreign environment. It also can indicate superior initiative when they apply for jobs, as students that study abroad are still a minority among the general student body."
The 10-day program started in Barcelona, where the group took park in a guided bike tour, Torres Winery business visit and site visits to an open air market and retail clothing stores.
In Rome, the students took a walking tour of the city, an Italian cooking class, and business visits to Mottura Agriturismo and AS Roma Soccer Club. Thanks to the generosity of College of Business Administration alumnus Paul Edgerley, the group also was able to take in a professional soccer match between AS Roma and Inter Milan.
"My study abroad experience enhanced my education by allowing me to view new cultures," said Rebecca Hickey, senior in marketing from Austin, Texas. "I was able to observe the differences from Barcelona, Rome and the United States, and apply them to several different marketing topics we had discussed in class — in addition to experiencing the exciting new places we were in."
The College of Business Administration offers several study abroad experiences throughout the year, including a Thanksgiving break trip to Venice, Rome and Florence in 2015. For more information on study abroad programs in the college, email Janda at swinder@k-state.edu or visit http://cba.k-state.edu/current-students/study-abroad/index.html.