November 14, 2014
Hungarian Academy of Sciences recognizes K-State architecture professor Peter Magyar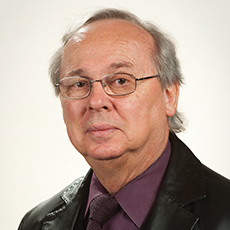 Peter Magyar, professor in the College of Architecture, Planning & Design's architecture department, has been recognized as an honorary member of the Széchenyi Academy of Letters and Arts.
The Hungarian Academy of Sciences established the Széchenyi Academy of Letters and Arts, which is named for Count István Széchenyi, who founded and funded the Hungarian Academy of Science,s in the first half of the 19th century. Scholars and scientists active in a foreign country may be elected to become honorary members of the Széchenyi Academy of Letters and Arts, if they pursue their field of science on an internationally recognized level, and whose achievement is worthy of the special esteem of Hungarian scientific life.
After receiving notification of his membership Magyar said, "It was a total surprise, and is an incredibly high distinction! I am greatly humbled by it."
Magyar, a registered chief-architect in Hungary and in Europe, came to K-State in 2007 as department head of architecture and served in that position until 2011. He was the founding director of the School of Architecture at Florida Atlantic University in Fort Lauderdale, and head of the architecture department at Pennsylvania State University.
He has held faculty positions at the Technical University of Budapest, Hungary; Ahmadu Bello University, Zaria, Nigeria; Auburn University as the Burlington Distinguished Professor; the University of Cincinnati; the University of Monterrey, Mexico; and was a guest professor at the Royal Academy of Arts in Copenhagen, Denmark.
Magyar has a Doctor of Architecture and Master of Architecture and Urban Design degrees, with distinctions, from the University of Budapest, Hungary. He also is a member of the Royal Institute of British Architects.
"I am pleased to see that Professor Magyar's countrymen recognize the excellence he has displayed in his teaching and academic administration throughout a wonderful career," said Tim de Noble, dean and professor of the College of Architecture, Planning & Design.
Read more about the Hungarian Academy of Sciences.