November 14, 2014
Student Body President Reagan Kays: I give because ________.
Submitted by Susan Wolf Berhow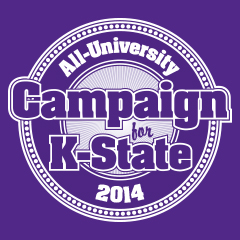 Dear K-State Faculty and Staff,
I give because I care about my fellow students and want to help keep them a part of the K-State Family.
On behalf of the student body, thank you for all you do to create the outstanding college experience here at K-State. You are the heart of this university, and it's your service, day in and day out, that shapes us as college students.
You might be surprised how much we look to you as role models, especially when it comes to giving back. Nine years ago this fall, a group of Student Foundation members were inspired by the success of the All-University Campaign and wanted to start a similar campaign for students. As a result, that spring, K-State Proud was born. More than $833,000 and 450 Student Opportunity Awards later, K-State Proud is nationally recognized, and thousands of students have learned the power of participating in philanthropy.
As this year's All-University Campaign comes to a close today, students are once again looking to you. Your participation sets the stage for the giving decisions of many. Whether it's a student making their first K-State Proud donation this year, or a K-State donor considering a major philanthropic investment, your participation sends a powerful message: Giving back is the K-State way.
If you haven't already, I hope you will consider joining the 2,000-plus faculty and staff members who have already made a gift by participating in the All-University Campaign today. You can make a gift here. Your gift, no matter the size, makes a big difference.
As the first land-grant institution, it is important that we continue to be accessible to students who want to persue higher education. Donations from university donors, friends and alumni allow us to continue the land-grant mission, and we can't do it without you!
Thank you for inspiring K-State's culture of philanthropy!
Reagan Kays
K-State Student Body President
Note: Today is the last day your gift will count toward participation in the 2014 All-University Campaign. You can make a gift here. Questions? Contact Callie Friedrich at 785-532-7754.