November 13, 2014
Top three reasons to give to the All-University Campaign
Submitted by Susan Wolf Berhow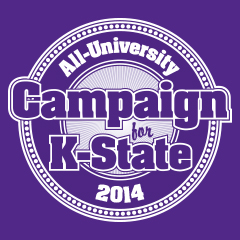 K-State is more than an employer. See the top three reasons your colleagues choose to support K-State by participating in the All-University Campaign.
1. Making an impact on the future through students: For many faculty and staff, students give meaning to their day-to-day responsibilities. If students are the center of your concern, you might consider giving to a scholarship fund associated with your department or college. You also may giving to K-State Proud, a student-led campaign that has helped more than 450 students stay at K-State. Make a gift to support students.
2. Advancing faculty and staff support: The opportunity to advance the career of a colleague or coworker is what drives many faculty and staff to participate in the All-University Campaign. They know first-hand the importance of faculty and staff on this campus. Consider selecting funds that support faculty and staff travel and professional development, like a dean or department head's excellence fund. You also may consider giving to the University Support Staff Opportunity Fund, which provides financial resources for university support staff based on leadership. Make a gift to support faculty and staff.
3. Enhancing the place we "love full well": For some faculty and staff, it is more than the people — it's the place and the positive impact it has on students, faculty and staff daily. If you value facilities, consider supporting one of several building projects, or you could choose to support facilities by contributing to an excellence fund associated with a college, department or program. For the campus grounds, consider the Campus Beautification Fund to make sure our campus remains in top shape. Make a gift to support facilities.
For more giving choices, visit the Designate Your Gift section of the All-University campaign website, or click here to see a full list of funds.
Questions?
Contact Callie Friedrich at callief@found.ksu.edu or 785-532-7754.