November 13, 2014
Creative Time Summit screening Nov. 14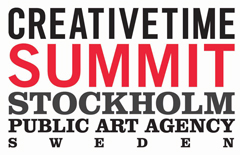 The art department at K-State will host a screening of this year's Creative Time Summit Stockholm: Public art agency, from 10 a.m. to 5:30 p.m. Nov. 14 in 121 Willard Hall.
The Creative Time Summit is an international platform that explores the many ways in which artists are tackling the world's most challenging social and political issues. Innovative artists, activists, writers, scholars and curators take the summit stage to present bold new strategies for social change to a global audience. Creative Time's work is guided by three core values: art matters; artists' voices are important in shaping society; and public spaces are places for creative and free expression.
As a host we are curating programs that localizes this global discussion. Local speaker's include: Rebecca Bahlman, Carlos Castellanos, Flint Hills Human Rights Project, Matthew Garcia, Isabel Millan and Micheal Wesch.
Other programs for the day will include a Social Justice Story Time, which engage themes of tolerance, multiculturalism and social justice and an 80's Dance Party.
From noon to 1 p.m. you can enjoy a community style lunch generously prepared for by Real Food Lunch, a student-led program committed to eating healthier and more diverse foods, with as much locally grown, fresh produce as possible.
Students, faculty and community members are all welcomed to attend.