November 6, 2014
Nasser to present research at ninth annual Conference on Empirical Legal Studies
Submitted by Brent Fritzemeier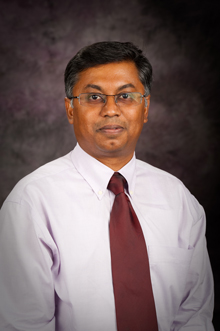 Assistant professor of finance Tareque Nasser's research, "Multiple Lead Underwriter IPOs and Firm Visibility," has been accepted for presentation at the ninth annual conference on Empirical Legal Studies at the University of California, Berkeley School of Law.
The paper is co-authored by Jin Jeon, Dongguk University; Cheolwoo Lee, Ferris State University; and M. Tony Via, University of Alabama.
The conference will be Nov. 7-8 in Berkeley, California. The annual Conference on Empirical Legal Studies was initially launched in 2006, in response to the growing level of interest and expertise in the empirical study of law in law schools as well as other disciplinary fields. Due to the significant breadth and reach of empirical approaches across fields, the conference has quickly become one of the premiere conferences in law and social science, attracting upward of 350 researchers from around the globe across dozens of disciplines.