September 17, 2014
Letter from chief information officer Ken Stafford: Network slowness expected today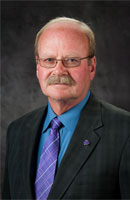 Today, Sept. 17, the latest release of Apple's mobile operating system, iOS 8, will be made available. Last year's iOS 7 update resulted in a 700 percent increase in worldwide network traffic. Network slowness and outages occurred throughout the world as millions of devices downloaded the one gigabyte update. At K-State, the network has more than enough bandwidth to handle the load. However, wireless access points can become completely saturated slowing your access to a crawl.
Users might consider waiting before they upgrade to iOS 8 and read more about how well the operating system is working before committing to the upgrade. Once your device is upgraded, it can't revert back to iOS 7. Also, this is not a critical or urgent upgrade.
Because of the number of iPhones and iPads on campus along with the 1.5 gigabyte size of the iOS 8 update package, the impact this year could be more pronounced. We are asking users to:
Avoid downloading at peak times. Consider downloading the iOS later in the afternoon and into the evening
Avoid downloading in densely populated locations such as the K-State Student Union, Hale Library, residence halls, etc.
With your understanding, K-Staters can help reduce the likelihood of network slowness today.
Thank you for working with us.
Ken Stafford, CIO