September 11, 2014
Former Miss Kansas to speak Sept. 28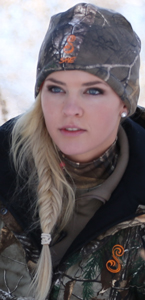 Peg McBee and the Wildlife and Outdoor Enterprise Management Club are hosting guest speaker Theresa Vail, 2013 Miss Kansas, from 6:30-8 p.m. Sunday, Sept. 28, at the Tuttle Creek State Park Fleming Shelter House. Registration is required.
In September 2013, Vail competed for Miss USA, placing in the Top 10 and winning the America's Choice Award. She gained popularity by being the first contestant to display tattoos and for encouraging other young women to be as bold. Vail has served in the U.S. Army for nearly seven years, first as a mechanic and currently as a dental technician. She recently re-enlisted for another six years of service. In the fall, Vail will begin filming her hunting/adventure show "Limitless with Theresa Vail," which will air on the Outdoor Channel in July 2015.
While reigning as Miss Kansas, Vail listed her platform issue as empowering women to overcome stereotypes and break barriers. When Vail was 19 and the only female mechanic in a motor pool, she experienced verbal sexual harassment and inappropriate comments from co-workers. After lack of support from her commander, she took her concerns to his superior and was allowed to transfer to another unit.
Vail said women must stand up themselves because nobody is going to do it for them.
She said her goal is to "show woman that we can have the best of both worlds, that you don't have to allow other people to categorize you. I know being in the military, I was put in this box that I couldn't do feminine things, and most female soldiers face this same stereotype. I just wanted to show women, you can be a tomboy and still have a feminine side. You can have it all if you want it."
To register contact one of the following people:
Jared Heiman at jfheiman@k-state.edu
Chase Middletown at cmmiddle@k-state.edu
Avery Lacombe at alacombe@k-state.edu
Thomas Becker at tabecker@k-state.edu
Nick Wehling at wheels10@k-state.edu
Graham Zurschmiede at zurscgra000@k-state.edu