August 20, 2014
Harvard learning technologies researcher to give three lectures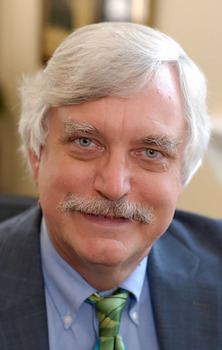 Chris Dede, a world-renowned Harvard researcher and leader in the field of learning technologies, will give three presentations on Sept. 10 as part of the College of Education's Distinguished Educational Research Lecture Series.
The main presentation is in Leadership Studies Building's Town Hall:
At 9:30 a.m. Dede will present "From Research to Results - Envisioning the Future of Technology in Teaching and Learning."
Two smaller sessions are in Room 119 in Bluemont Hall:
At 1 p.m. Dede will present an interactive session, "P-12 Interactive Discussion — Digital Teaching Platforms Using Social Media, BYOD, 1:1, and Other Emerging Trends";
At 2:30 p.m. Dede will present a second interactive session, "Higher Education/Training Interactive Discussion — Online Teaching and Training with Emerging Technologies/MOOCs/Immersive Environments, etc."
Participants can attend in person or join in via Zoom videoconferencing. Due to a high interest, registration is required for those planning to come to campus.
Live videoconference for the lecture and both interactive sessions can be attended on Zoom with a maximum of 100 participants. The Zoom Web link will be provided on Sept. 2, along with tutorials for using Zoom on PC or Mac. Those wishing to use Zoom and needing additional help may contact the IT Help Desk about using Zoom.
For questions, please email Rosemary Talab, professor of curriculum and instruction, at talab@k-state.edu.