August 8, 2014
AG in Motion makes K-State Olathe visit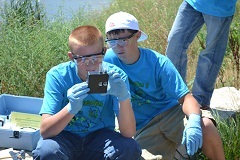 Thirty high school agriculture students from Minnesota decided to make Kansas State University Olathe one of their focal points on a five-day tour of the Midwest as part of AG in Motion, a field trip on wheels.
While at K-State Olathe, the students toured the research labs, and spoke with Joan Leavens, Martha Nowak and Sara Gragg. Leavens is coordinator of the Urban Water Institute. She conducted water quality testing onsite with the students. Nowak, program coordinator of One Health Kansas, presented "Zoonotic Disease in an Agricultural Setting." Students then teamed up to solve several Centers for Disease Control "Solve the Outbreak" missions on iPads. Gragg, assistant professor at K-State Olathe, also presented on food safety and its implications for agriculture.
Top concerns according to these students for agriculture in the next 10 years include climate change, the viability of small farms in a changing market, water shortages, water quality, zoonotic disease and food security in a global market.
Angie James, Tiffany Timm, and Nikki Beucler, founders of AG in Motion, modified an existing curriculum in Iowa and modified it to meet the needs of Minnesota high school students. Their aim was to address current and future agricultural challenges.
The founders started local with the first AG in Motion in South Dakota, the second in Wisconsin, the third focused on the headwaters of the Mississippi in Minnesota, the fourth on St. Louis and Illinois, and this year came to Omaha and Kansas.
Timm said they fund this program from a generous Future Farmers of America chapter, which includes actives and alumni, who donate funds to defray costs. The $275 registration per student is able to be lowered to $200, allowing greater participation. They also write grants, and rely on their local WalMart to donate bottled water and snacks for the trip. James contacted Micheal Strohschein, director of K-12 science education partnerships at K-State Olathe, due to his association with the Future Farmers of America organization.
The high school students utilize the online schoology website to document the approximately 10-15 hours of research prior to departure. After completing the trip, students will present findings to others in the class as a final product to receive a one-half semester high school credit toward meeting graduation requirements.
K-State Olathe was happy to host the Minnesota AG in Motion 5 students. They were inquisitive, creative, insightful and diligent, and we are fortunate to have these students pursuing their passion for solutions to problems that face agriculture in the coming years. It was our pleasure to serve them and be inspired by them. They expressed interest in touring the K-State Manhattan campus and the BRI next time, perhaps as soon as next year.
Students became more informed about agriculture-related undergraduate programs being offered at the Manhattan campus, as well as graduate programs offered at K-State Olathe.
For more information about the event, contact Martha Nowak, program coordinator for One Health Kansas at K-State Olathe, at msnowak@k-state.edu.