August 8, 2014
Pinkall to attend Primetime Emmy Awards for Olympic Ceremony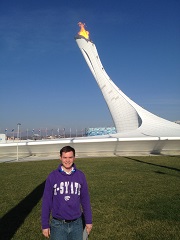 Nominations for the 66th Primetime Emmy Awards were announced in July and the Sochi 2014 Olympic Winter Games Opening Ceremony has been nominated for Outstanding Special Class Program and Outstanding Art Direction for a Variety Special in the Primetime Emmy Awards.
K-State voice professor Bryan Pinkall will travel to Los Angeles to attend the Primetime Creative Arts Emmy Awards Ceremony for his involvement in the nominated production.
Pinkall was selected to join the group tasked with the production of the opening ceremony early last year. After months of planning, Pinkall traveled to Sochi, Russia, in January to organize and manage music and artistic components of the event. With a cast of thousands, the ceremony was seen by more than 3 billion people worldwide, according to the International Olympic Committee.
The winners will be announced at the Primetime Creative Arts Emmy Awards at the Nokia Theatre in Los Angeles on Aug. 16.