July 11, 2014
Reminder: Faculty-led study abroad program proposals due Aug. 15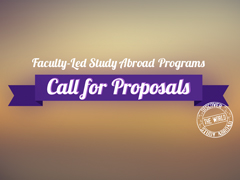 A reminder to faculty planning to propose a faculty-led study abroad program with summer 2015 credit: Submit a completed proposal and supplemental materials by Aug. 15 to the study abroad office.
If you are developing a program or are interested in learning more about this process, please contact the faculty-led study abroad advisor for your college.
More information about faculty-led study abroad programs, the proposal process and other upcoming dates can be found within the for faculty and advisors section of the study abroad website.