July 11, 2014
Lt. Col. Snowden retires as K-State Air Force ROTC commander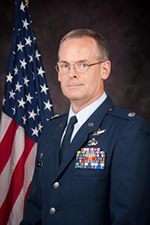 Lt. Col. Jonathan D. Snowden's 24-year career is being honored today at a retirement celebration in Gen. Richard B. Myers Hall, the home of the K-State Air Force ROTC program he oversaw.
Snowden has been the commander of the Air Force Reserve Officer Training Corps, or AFROTC, Detachment 270 and the department head of aerospace studies in the College of Arts & Sciences at K-State since 2012.
"Detachment 270 is renowned for creating leaders for our country and is very competitive for the best and brightest students," said Peter Dorhout, dean of the College of Arts & Sciences. "Leaders like Snowden take a career of professional and personal experiences in the Air Force and only have a few brief years to impart that wisdom to our cadets. He has served our country and our students well, and trained an outstanding support team to keep Detachment 270 aiming high."
In his time at K-State, the program grew to its largest enrollment since 2011 and began to initiate cooperative relationships with other campus entities, including the A.Q. Miller School of Journalism and Mass Communications as well as the College of Engineering. This spring, the program had 8 out of 9 cadets — 89 percent — selected for highly-competitive rated positions, well above the national average of 79 percent.
"My time here has been the highlight of my career," Snowden said. "As an airman, I've been blessed to be a part of great teams filled with outstanding people doing outstanding missions all over the world, but helping to prepare the young men and women at K-State in becoming fellow airmen is even more fulfilling."
Born in Leesville, Louisiana, Snowden graduated from Leesville High School in 1984. He entered the Air Force in 1990 after graduation from Texas A&M University.
Snowden has served at a variety of posts within the U.S. Signals Intelligence System, directing operations at the tactical, operational and strategic levels. He also had leadership positions within Joint Air Operations Centers, serving as the senior U.S. officer in charge of intelligence, surveillance and reconnaissance operations for Operations Enduring Freedom and Southern Watch at Prince Sultan Air Base, Kingdom of Saudi Arabia, and later serving as the deputy chief, intelligence, surveillance and reconnaissance, Division for Operations, Iraqi Freedom and Enduring Freedom at Al Udied Air Base, Qatar.
Prior to coming to K-State, he was dual-hatted as the deputy director of intelligence for 13th Air Force and as the chief, Pacific Air Forces Intelligence Analysis Division. He also was a core member of U.S. Pacific Command's Joint Task Force 519, serving as the deputy director of intelligence.
"It's been a privilege to serve the people of this great nation," Snowden said. "When I'm out and about in uniform, I'll often have people thank me for my service, and it's hard for me to convey that I'm the one that's thankful for their support and appreciation for us. I've spent my lifetime in Army and Air Force towns, and Manhattan tops them all. This is a place any American could call home. My family and I are excited to start the next phase of our lives here in this community."