June 17, 2014
University police department receives special training at Fort Riley
Submitted by Communications and Marketing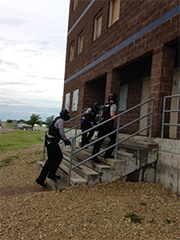 On June 10 and 12, the Kansas State University Police Department, along with the Kansas Highway Patrol and Riley County Emergency Medical Services, conducted active shooter training at Fort Riley's Victory Village that involved multiagency response, emergency trauma first aid and crisis communication.
University police officers, Kansas Highway patrol troopers, EMS responders and an officer from the Riley County Police Department worked side by side in a school setting and a residence hall building that were equipped with technology that challenges participants with real-life situations such as smoke, explosions, fire alarms and other various obstacles that could be faced in actual emergency. Participants communicated with dispatchers in a mobile command vehicle, adding yet another level of realism to the training.
Role players were a key part of the training, acting as both victims and suspects, giving the officers and EMS an added element to the exercises.
Officers and emergency medical personnel trained with the latest emergency medical equipment and learned techniques used for combat-related injuries.
"The injuries often associated with active violence and active shooter situations mirror those seen in combat. Having key personnel trained in these lifesaving techniques is critical," said Ronnie Grice, Kansas State University assistant vice president for public safety and chief of police. "This first-class training would not have been possible without the partnerships that have been built with Fort Riley. Having a world-class training center this close to our community allows our first responders to be better prepared for the violence that happens all too often in society today."
Grice also said the following agencies helped make the event a success: Fort Riley Directorate of Emergency Services, Fort Riley Police Department, Fort Riley Training Support Center, Riley County Police Department, Riley County Emergency Medical Services, Kansas Department of Wildlife, Parks and Tourism, Kansas Highway Patrol, Riley County and the staff at Victory Village.