June 10, 2014
Visiting scholar from Dartmouth to teach about race, migration, transnationalism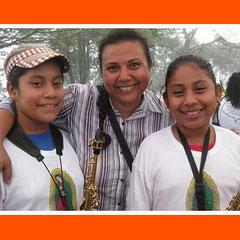 Lourdes Gutiérrez Nájera, assistant professor of anthropology at Dartmouth College, will be a visiting instructor for the anthropology program next academic year.
Gutiérrez Nájera is a cultural anthropologist whose research focuses on concepts of identity, conflict and belonging in the context of transnational migration and indigeneity of Latina/o communities of the United States and Mexico as well as U.S.-Mexican borderlands.
Her upcoming book, "Tripping Over Stones: Zapotec Migration, Transcommunal Conflict, and the Politics of Belonging," explores the relationship between migration, conflict and belonging in the Zapotec indigenous town of Yalalog in Oaxaca, Mexico, and in Los Angeles, California.
In the fall, Gutiérrez Nájera will teach ANTH 524 Immigrant America. The course will investigate immigrant adaptation, economic strategies and the reinterpretation of cultural identity with a discussion of the implications of transnational migration for American society. This course will give students a unique opportunity to learn from and engage in discussions with a leading expert on one of the United States' most enduring and politicized issues.