November 11, 2011
Achieve a new record: Make your gift to the All-University Campaign today
Submitted by Susan Wolf Berhow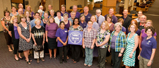 Today is the last day of counting for the 2011 All-University Campaign for K-State, and we are very close to another record-breaking year. If you have not made your gift yet, today is your last chance to join the more than 1,800 faculty and staff who have already participated in the campaign this year.
You can participate by making your gift online or by turning in your contribution form in your Guide to Giving packet by the end of the day. Lost your packet? You can download a form here.
Why give to the All-University Campaign? The campaign is an opportunity for the K-State family to work together to advance our great university. Because the campaign encourages faculty and staff to give to the area of K-State they care about most, you can decide where your dollars go. You can browse giving options here. Through our participation, we show our K-State pride and send a powerful message to our donors, legislators, corporations and foundations, alumni and friends that we believe in K-State's future. Every gift, regardless of the size, makes a difference. Join us in making this year's campaign the best yet!
For information, visit www.K-StateAUC.org