May 6, 2011
Ali Malekzadeh named Edgerley Family Dean of College of Business Administration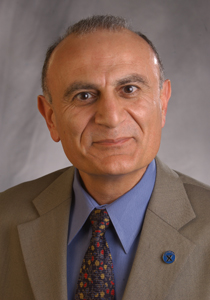 Having boosted the reputation and ranking of several business schools, Ali Malekzadeh is bringing his talents to Kansas State University.
Malekzadeh will join the K-State College of Business Administration as the newest Edgerley Family Dean on July 1. He comes to K-State from Xavier University in Cincinnati, where he was dean of the Williams College of Business.
"I am thrilled to be joining K-State as Edgerley Family Dean of the College of Business Administration," he said. "I look forward to working with the colleagues in the College of Business Administration and across the university to achieve the ambitious goals of K-State 2025. While it is hard for me to leave the Xavier family after eight years, I feel that I have already been welcomed to the K-State family.
Among his accomplishments at Xavier were launching a distinguished speaker series, starting an executive mentor program, creating an entrepreneurship competition and overseeing construction of the college's $29 million new home.
"Ali Malekzadeh has made many strides as a business dean at Xavier, and I look forward to seeing what his accomplishments at K-State will be," said K-State President Kirk Schulz. "We welcome him to the K-State family as he joins our efforts to make K-State a top 50 public research university by 2025. We are grateful to the Edgerley family for supporting this deanship. Through their generosity we were able to attract Ali with his extensive background and outstanding talent."
Before joining Xavier he was dean of the Herberger College of Business at St. Cloud State University in Minnesota, where he also served as the university's interim vice president for academic affairs. Previously, he helped build the campus of Arizona State University in Phoenix and served as associate vice provost and president of its academic senate.
"Having Ali Malekzadeh's vast experience as an academic leader and educator, combined with acumen in his field, will be enormous assets in advancing our K-State 2025 aspirations," said April Mason, K-State provost and senior vice president. "In the years to come, it will be exciting to see the impact his leadership has on the College of Business Administration, which excels in so many ways already."
As a professor Malekzadeh taught management and has been nominated six times for teaching awards. He has published two books, one on mergers and acquisitions and the other on organizational behavior. His areas of expertise include strategic management and planning as well as mergers and acquisitions.
Malekzadeh has a bachelor's degree in management and a master's of business administration from the University of Denver. His earned his business administration doctorate in strategic management from the University of Utah.
K-State's College of Business Administration offers undergraduate programs in marketing, accounting, finance and entrepreneurship, as well as a master's of business administration, a master's of accountancy, an executive master's of business administration, as well as graduate certificate programs in leadership, business administration and animal health management.
The college has nearly 2,850 undergraduate students and 120 graduate students. Its faculty include award-winners, top researchers and business owners who are active in trade, research and business organizations. The college is among the 10 percent of the approximately 1,680 business schools and colleges in the United States to hold accreditation by the Association to Advance Collegiate Schools of Business for all business and accounting programs.