March 11, 2014
David Pickering organ recital tonight in All Faiths Chapel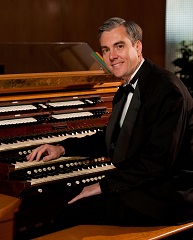 David Pickering, assistant professor of music, will perform a faculty organ recital at 7:30 p.m. Tuesday in All Faiths Chapel.
He will play Johann Sebastian Bach's famous "Toccata and Fugue in D Minor"; "BWV 565"; "Choral in E Major" by César Franck; a chorale prelude, "Herzliebster Jesu, was hast du verbrochen" by 20th-century composer Helmut Walcha; and a four-movement organ symphony, "O Jerusalem — A Symphony for Organ," by American composer Daniel E. Gawthrop. Pickering premiered this engaging and accessible work nearly 10 years ago. The recital is free and open to the public.
Austin Organs Op. 2352, 1961, the All Faiths Chapel Memorial Organ, celebrated its 50th anniversary nearly three years ago. It has been awarded a Historic Organ Citation by the Organ Historical Society, one of 409 organs in the U.S. and the second in the state of Kansas to receive this award. The organ has recently undergone two phases of renovation over the past seven years.
Please contact Pickering at dpickeri@k-state.edu or 785-532-3830 with any questions.