March 11, 2014
Gray to discuss the development of software for Microsoft Kinect to prevent ACL injuries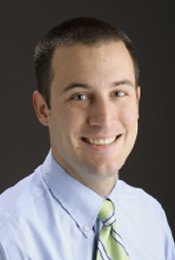 A Zoom videconference with Aaron Gray, University of Missouri, is scheduled from noon to 1 p.m. March 12 in 124 Bluemont Hall. Gray will discuss his project to use video game technology to develop a diagnostic program with the K-State Gaming and Immersive Environments Group.
Gray is using mobile apps for health. His project is with Marjorie Skubic, professor in computer engineering at the University of Missouri, and the Microsoft Application Development Lab in the Reynolds Journalism Institute at the University of Missouri.
The goal is to build a Kinect game to improve the strength and body mechanics in girls flagged for injury risk. Gray practices general sports and family medicine at both the Missouri Orthopaedic Institute and University Physicians at Green Meadows. He is a physician for University of Missouri athletes and team doctor for the baseball team.
If you wish to view this presentation virtually, then please contact Rosemary Talab at talab@k-state.edu by 5 p.m. March 11.