December 18, 2013
Last-minute gift: Purchase a newly published book showcasing Wildcat pride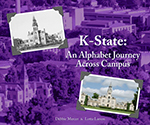 Want the Wildcats in your life to go wild about a special gift? Well, it just arrived in the dean's office in the College of Education.

"K-State: An Alphabet Journey Across Campus" was written by Debbie Mercer, dean, and Lotta Larson, associate professor of curriculum and instruction. It captures all the elements that define life at K-State: fun, friends and family.

The book costs $20, and the author's profits are being donated to a scholarship fund for preservice teachers. Stop by 006 Bluemont Hall and pick up a book that showcases our purple passion and pride.