December 18, 2013
Submit your entries for natural Christmas tree competition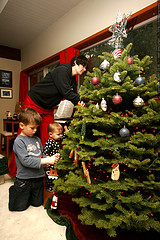 The Kansas Forest Service is offering a natural decorated Christmas tree competition, artificial trees excluded.
Please upload pictures of your decorated real Christmas tree to the Kansas Forest Service Facebook page.
The competition will be until the stroke of midnight on Christmas Day. The winner will be announced Jan. 6, 2014, and receive 25 seedlings of a bare-root variety of their choice and free shipping and handling. The winner will be contacted through their Facebook page. If you have any questions regarding the competition call the Kansas Forest Service at 1-888-740-8733.