December 18, 2013
Video lecture-capture demonstration today
Submitted by Christine Doucette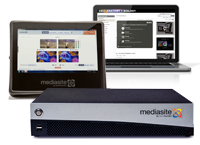 Mediasite is a capture-and-distribution software that allows instructors to make live and on-demand digital recordings of their lectures and presentations.
Come see for yourself what Mediasite can do. Mediasite representative Chuck Coopman will give a demonstration from 1-3 p.m. today, Dec. 18, in the Big 12 Room at the K-State Student Union. An information session will follow the demonstration.
With Mediasite, lectures can be recorded in a digital format that students can then watch over the Web on a computer or their mobile device. Lecture-capture technology records the instructor's audio and video, as well as any visual aids coming from laptop, tablet, whiteboard and document camera.
Kansas State University is conducting an extended pilot of Mediasite throughout the spring 2014 semester. During the pilot, two classroom capture appliances will be tested along with a desktop capture solution. To learn more about the pilot, view the Mediasite spring 2014 pilot website.
To learn more about the demonstration or Mediasite, contact Artur Gregorian, electronic media coordinator in the office of mediated education, at 785-532-2483.