December 11, 2013
National search finds Cindy Bontrager to be vice president for administration and finance
Submitted by Communications and Marketing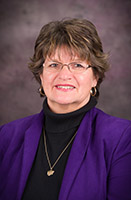 Following a national search, Kansas State University has announced Cindy Bontrager will serve as vice president for administration and finance at the university. Bontrager has been in the position on an interim basis since October 2012.
"In her interim role Cindy demonstrated a sincere willingness to make decisions and move the organization forward," said Kirk Schulz, president. "She is an excellent fit for our team and brings exceptional knowledge about the university's budget and internal processes. Strong financial and administrative leadership is essential to achieving our goal of becoming a Top 50 public research university."
The vice president for administration and finance is the university's chief financial officer. The position supports the university's academic, research and service objectives and is responsible for K-State's fiduciary integrity.
The vice president oversees diverse units at the university. This includes the budget office, the Division of Financial Services, environmental health and safety, the Division of Facilities, the Division of Human resources, internal audit, parking services and the university police.
"I appreciate the support I have received from the campus over the past year," Bontrager said. "I understand the financial challenges we face and will work to continue improving the services we provide to assist the university in successfully achieving its K-State 2025 goals."
Bontrager has been a part of the university for 24 years. She was at Kansas State University in the budget office from January 1989 to April 1998, returning July 2003. She was at the Kansas Board of Regents from July 1998 to July 2003 after a brief stay at the Kansas Department of Insurance.

A copy of the offer letter is available online.