December 11, 2013
Model train show at the K-State Student Union Thursday and Friday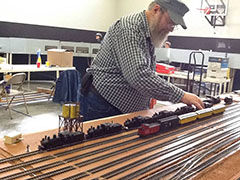 Come out, relax and watch the Manhattan Area Rail Joiners H.O. model train show from 9 a.m. to 4 p.m. Thursday and Friday on the first floor of the K-State Student Union courtyard.
The live train show will feature graffiti, German and military trains. The Manhattan Area Rail Joiners began in the 1970s and promotes fun for all ages to learn how to build model trains. The club hosts several train shows throughout northeast Kansas.
The club meets on the first Thursday of each month at 7 p.m. in the Manhattan Public Library. For more information, visit the the club's Facebook page.