December 4, 2013
New K-State gift option: Honor K-State friends, family with an online gift and create a PDF card to share
Submitted by Susan Wolf Berhow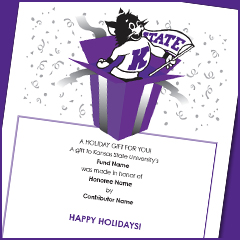 Looking for a way to honor a friend, co-worker or loved one this holiday season? Give the gift of philanthropy.

Just in time for this season of giving, you can now make a gift online in honor of a friend, co-worker or family member and create a personalized PDF card to share the news of your gift.

These personalized cards make great card enclosures and last-minute gifts. Frame one and it becomes the perfect gift for that hard-to-shop-for Wildcat.

No matter how you wrap it, your gift will make a difference at K-State!

Get started creating a card.