December 4, 2013
All-University Campaign for K-State breaks records in 2013
Submitted by Susan Wolf Berhow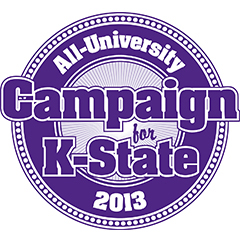 K-State faculty and staff participation in the All-University Campaign reached an all-time high this year, with 43 percent participating. Thank you to all faculty and staff who made a difference by participating this year.
In addition, the campaign also enjoyed the following results:
2,189 faculty and staff made a gift this year
254 made a gift through payroll deduction
223 made a gift for the first time
More than $1.1 million was raised during the 2013 campaign!
The following work groups for matching or exceeding their participation rates from last year:
Administration and Finance
Alumni Association
Athletics
College of Agriculture
College of Business Administration
College of Engineering
College of Human Ecology
College of Veterinary Medicine
Communications & Marketing
Continuing Education
Facilities
K-State Olathe
KSU Foundation
Research & Extension
Research & Sponsored Programs
School of Leadership Studies
The All-University Campaign for K-State is an internal fundraising effort run by campus faculty and staff volunteers specifically focused on the participation of all employees including the Manhattan campus, K-State Salina, K-State Olathe, K-State Alumni Association, KSU Foundation and K-State Athletics. It is an annual campaign for all members of the campus community to participate in by supporting the areas of the university they care about most.
For more information about the All-University Campaign, visit the campaign's website.