November 13, 2013
Geography professor publishes new book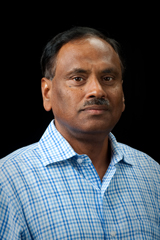 Bimal Paul, professor of geography in the College of Arts and Sciences, will have his second book, "Climate Change in Bangladesh: Confronting Impending Disasters," published on Nov. 16. The book looks at the climate of Bangladesh from national and international lens, and is co-published with Harun Rashid, professor emeritus in the department of geography and earth science at the University of Wisconsin, La Crosse.
According to Paul, the book provides an essential interdisciplinary text on climate change and sea level rise in Bangladesh for undergraduate and graduate students of geography, environmental studies, sociology, anthropology, political science and others. He calls it an invaluable resource for managers and planners of the government of Bangladesh and several international agencies, including the United Nations.
Paul has spent much of his professional career conducting climate change research in Bangladesh. He began compiling his work last spring for the newest book.
"It is nice that it can be used by many people. It is interdisciplinary and can be used as a text book or research resources," Paul said.
The 252-page book will be available on Amazon. A review by Thomas Schmidlin of Kent State University praised the book as "…bring(ing) an entirely fresh perspective to climate change and the management of climatic disasters in Bangladesh. Their emphasis on coping strategies, indigenous adjustments, and management of disasters provides valuable guidance to disaster managers, NGOS, local politicians, and students. Anyone interested in how the developing world should cope with climatic disasters will find answers here."
Paul graduated from Kent State University in 1988. He currently teaches four classes in the geography department, including Quantitative Methods in Geography, and Geography and Natural Hazards. He also is the director for K-State's South Asia Center and editor of the Geographical Review, a publication of the American Geographical Society.
"He's a tremendous colleague and will do what is needed to help the department. He is certainly the most published member of the faculty, and has been for many, many years. He's a very well known scholar in the discipline of geography," said Chuck Martin, professor and head of the geography department.
This will be Paul's second book. His first book, "Environmental Hazards and Disasters: Contexts, Perspectives and Management," was published in October 2011.
"People in the discipline of geography know that Dr. Paul is an expert on South Asia. That brings a lot of reputation and notice to the department, the College of Arts and Sciences and K-State," Martin said.