November 13, 2013
K-State Libraries assistant dean honored by Kansas Native Plant Society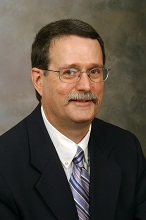 The 35th annual meeting of the Kansas Native Plant Society was an eventful one for Michael Haddock, professor and assistant dean of the research, education and engagement division of K-State Libraries.
Haddock, a member of the society's board since 2007, was elected board president at the meeting. He will serve a one-year term as president, as well as a third three-year term on the board.
During the annual awards presentation at the meeting, Haddock received the Stephen L. Timme Award for Excellence in Botany. He was selected for his 2005 book "Wildflowers and Grasses of Kansas: A Field Guide," chosen as a Kansas Notable Book in 2006 by the Kansas Center for the Book at the State Library of Kansas; for his website Kansas Wildflowers and Grasses; and for having given more than 60 native plant presentations in the past seven years.
"It is wonderful to see Mike's contributions to scholarship in the area of Kansas native plants recognized in this fashion," said Lori A. Goetsch, dean of K-State Libraries. "We've long known the significance of his work, and appreciate how it helps the libraries and the university fulfill the land-grant mission to serve and educate the citizens of Kansas."
The Kansas Native Plant Society awards the Stephen L. Timme honor each year to an individual who has made an important contribution to botany in the state of Kansas in the form of research or education. Stephen Lee Timme was emeritus professor of botany and director of the T.M. Sperry Herbarium at Pittsburg State University. Timme established the Excellence in Botany Award, which was named for him posthumously in 2012.
The mission of the Kansas Native Plant Society is to encourage awareness and appreciation of the native plants of Kansas in their habitats and in our landscapes by promoting education, stewardship and scientific knowledge.
Haddock's administrative position at the libraries includes leadership of the three departments, undergraduate and community services, faculty and graduate services, and university archives and special collections, which are collectively responsible for supporting the research and teaching mission of the university through innovative programs and services. These departments comprise more than 40 faculty and staff members distributed across Hale, Fiedler, Weigel and Math/Physics libraries. Haddock has been on the libraries' faculty since 1989 and assistant dean since 2009.